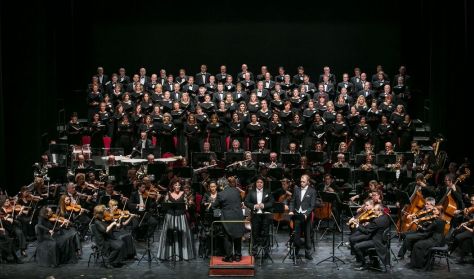 Requiem
Verdi's funeral opera
Concert performance in Latin with Hungarian and English surtitles
In the recently renovated Opera House, stylistically marked by Miklós Ybl's name, but also featuring the work of many distinguished Hungarian painters, the OPERA aims to create a special milieu for its Golden Age series that makes the concerts held here stand out among the symphonic programme of Budapest in their visual and lighting design. One of the OPERA's loveliest traditions is its musical observation of the All Saints' and All Souls' holiday period with the funeral mass that has been described as "an opera in ecclesiastical robes". Perhaps that is why we are the ones who are best equipped to perform it to the highest standard in Hungary. Giuseppe Verdi's grandiose Requiem is the heartfelt music of an opera composer, written in memory of Rossini and the poet Manzoni. It blends tragedy, pain, hope and consolation in an undeniable operatic style and language characteristic of Verdi, expressed in moments of heart-wrenching intimacy and astounding choral tableaux.
Verdi: Requiem
Conductor: Antonello Allemandi (I)
Soloists: Eszter Sümegi, Ildikó Komlósi, Attila Fekete, Péter Fried
Featuring the Hungarian State Opera Orchestra and Chorus
Lighting designer: Tamás Pillinger
NEW YEAR'S AT THE OPERA HOUSE Concert
Verdi's funeral opera Concert performance in Latin with Hungarian and English surtitles
Zoltán Kodály Opera Total – Psalmus100 Concert in two parts
Warning! The basket time limit is about to expire!
estimated time left:
00:00
Time limit has expired. Please, put item(s) in to basket again.
---