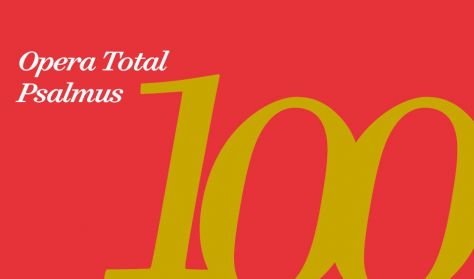 Opera Total – Psalmus100
Zoltán Kodály
Opera Total – Psalmus100
Concert in two parts
Nincs aktuális előadás
Ön egy múltbeli eseményre keresett rá. Kérjük, válogasson aktuális kínálatunkból a Jegy.hu keresőjében!
Last event date: Wednesday, November 15 2023 7:00PM
In 1923, when Budapest wanted to commemorate the 50th anniversary of its own birth – the unification of Pest, Buda, and Óbuda in 1873 – three of the most important Hungarian composers of the time were asked to create the programme for the celebratory concert. Béla Bartók's Dance Suite will be staged this season, while Ernő Dohnányi's Festival Overture with two and three orchestras was performed at the reopening of the Opera House. Now it's time for the largest-scale work of all, Zoltán Kodály's cantata Psalmus Hungaricus, which was last performed by the OPERA ensembles in the summer of 2011 at the ancient castle of Savonlinna in Finland. This time, it will be performed in the grand Locomotive Hall of the Eiffel Art Studios by a huge orchestra and the full 160-member choir. The OPERA Orchestra will add more colours with the popular Dances of Galánta, the Choir with a piece for mixed choruses by Kodály and the grand opus Laudes organi, the final work of his life.

Programme:
Zoltán Kodály:
Angels and Shepherds
Hymn to King Saint Stephen
Laudes organi
Dances of Galánta
Psalmus Hungaricus

Featuring the Hungarian State Opera Orchestra, Chorus, and Children's Chorus
Conductor: Nikolett Hajzer, Dániel Erdélyi, Gábor Csiki, Ádám Medveczky, Tamás Pál
A 60-minute tour starts every day at 13:30, 15:00 and 16:30 in English. To request a tour in other languages (Italian, Spanish, German, French and Hungarian), please get in touch with the OperaTour team. Please note that the auditorium is closed for visits during rehearsals. Guided tours are not available during performances.
Prima Donnas GYÖNGYI LUKÁCS Festive gala concert with Hungarian and English surtitles
Prima donnas ERIKA MIKLÓSA Festive gala concert with Hungarian and English surtitles
Carl Orff CARMINA BURANA Scenic cantata, in the original languages, with Hungarian and English surtitles
Richard Wagner PARSIFAL Bühnenweihfestspiel in three acts, in German, with Hungarian, English and German subtitles
Giuseppe Verdi AIDA Opera in three parts, four acts, in Italian, with Hungarian, English, and Italian subtitles
Warning! The basket time limit is about to expire!
estimated time left:
00:00
Time limit has expired. Please, put item(s) in to basket again.
---