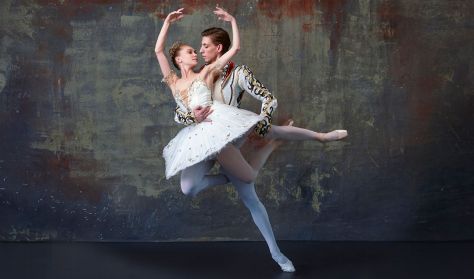 7th Iván Nagy International ballet gala
The World of Ballet Remembers a Hungarian Legend
Information on standing places for sold-out performances
If all seats are sold out for the selceted time, 64 standing seats at reasonable prices for the 3rd floor balcony become available 2 hours before the start of the performance. Tickets can be purchased at the Opera House ticket office and online. Please note there is limited view from the side seats and the standing places, but the performance can be followed on screens.
Nincs aktuális előadás
Ön egy múltbeli eseményre keresett rá. Kérjük, válogasson aktuális kínálatunkból a Jegy.hu keresőjében!
Last event date: Saturday, May 27 2023 7:00PM
2014 saw the sudden passing of the international ballet artist and ballet director Iván Nagy. After his retirement, he had returned to serve his country by working as head artistic consultant for the Hungarian State Opera. He used his wide-ranging knowledge of the profession to help the work of the Hungarian National Ballet; his departure left a gaping hole in the members of the corps de ballet. Since then, we have organised a ballet night in his honour every year, where soloists from the most important corps de ballet from all across the world – Royal Ballet, English National Ballet, Bolshoi, Páris Opera, Het Nationale Ballet – and the performers of the OPERA's corps de ballet pay tribute to Iván Nagy's greatness in the profession and as a person. On the same day, we will award an artist of the Hungarian National Ballet with the Solymosi Award, which is given to the best dancer from the December run of The Nutcracker.
Featuring the Hungarian National Ballet, the Hungarian National Ballet Institute and the Hungarian State Opera Orchestra.
Producer and director: Tamás SolymosiConductor: László Kovács
Hosted by Melitta Gyüdi
Recommended for children ages 4 to 7 Hungarian-language discussion programme.
A 60-minute tour starts every day at 13:30, 15:00 and 16:30 in English. To request a tour in other languages (Spanish, Russian, German and French), please get in touch with the OperaTour team. Price: 9 000 HUF Please note that the auditorium is closed for visits during rehearsals. In case a guided tour takes place at such a time, the route takes visitors to special, hitherto unseen areas. Guided tours are not available during performances.
László Seregi / Aram Ilyich Khachaturian SPARTACUS Ballet in three acts
Anna-Marie Holmes – Tamás Solymosi / Adolphe Adam LE CORSAIRE Classical ballet in three acts
Georg Friedrich Händel – Wolfgang Amadeus Mozart DER MESSIAS (MESSIAH) – concert Oratorio in three parts, without intermission, in Hungarian,…
Wolfgang Amadeus Mozart DIE ZAUBERFLÖTE (THE MAGIC FLUTE) Singspiel in two acts, in German and Hungarian, with Hungarian, English, and…
Warning! The basket time limit is about to expire!
estimated time left:
00:00
Time limit has expired. Please, put item(s) in to basket again.
---