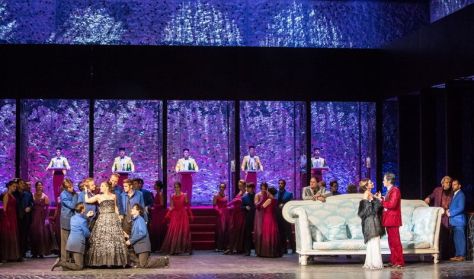 3
La traviata
Opera in two parts, in Italian, with Hungarian and English surtitles
The sultry atmosphere of intoxicating parties, an unbridled life of luxury, sparkling champagne – and a slow but lethal illness. This was what existence was like for the "lady of the camellias" before her true love walked into her life.
La traviata – The fallen woman. The truly sensational theme swept through the art of the 19th century, making a stunningly beautiful Parisian courtesan named Violetta Valéry into one of Verdi's most famous heroines.
Ferenc Anger's production features Erika Miklósa and Polina Pasztircsák in the title role.
End time  21:45