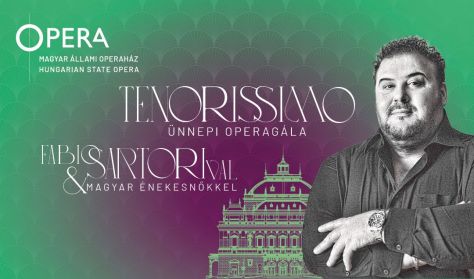 2
TENORISSIMO – festive opera gala with Fabio Sartori and Hungarian singers
Gala concert in two parts
Nincs aktuális előadás
Ön egy múltbeli eseményre keresett rá. Kérjük, válogasson aktuális kínálatunkból a Jegy.hu keresőjében!
Last event date: Friday, August 19 2022 8:00PM
For the third time, the OPERA presents a spectacular end-of-summer concert in late August. After Jonas Kaufmann from Germany, Lawrence Brownlee from the United States, and Patricia Petibon from France, a heroic tenor from Italy, Fabio Sartori will join our distinguished Hungarian singers on stage – this time at the refurbished Opera House.

PROGRAMME:
L. v. Beethoven: König Stephan – overture
G. Verdi: Simon Boccanegra – Gabriele Adorno's aria –  "Sento avvampar nell'anima" | Fabio Sartori
G. Verdi: Aida – Amneris's aria from Act 4 – "Ohimè! morir mi sento" | Andrea Szántó and the men's chorus
G. Verdi: Macbeth – Macduff's aria –  "Ah, la paterna mano" | Fabio Sartori
G. Verdi: La traviata – "Noi siamo zingarelle" | women's chorus, soloists: Júlia Magassy, Pál Sebestyén and Ferenc Sipos
P. Mascagni: L'amico Fritz – Intermezzo
R. Leoncavallo: Pagliacci – Nedda's Bird Song – "Stridono lassù" | Orsolya Sáfár
R. Leoncavallo: Pagliacci – Canio's aria – "Vesti la giubba" | Fabio Sartori

INTERMISSION

G. Puccini: Le villi – La tregenda
G. Puccini: Tosca – Love duet from Act 1 – "Mario! Mario! Mario!" | Zsuzsanna Ádám, Fabio Sartori
G. Puccini: Tosca – prelude and the shepherd boy's song from Act 3 | soloist: Zsófia Forrai
G. Puccini: Tosca – Cavaradossi's aria from Act 3 – "E lucevan le stelle" | Fabio Sartori
G. Puccini: Manon Lescaut – Manon's aria from Act 2 – "In quelle trine morbide" | Gabriella Létay-Kiss
G. Puccini: Madama Butterfly – Duet from Act 1 – "Bimba dagli occhi pieni di malia" | Csilla Boross, Fabio Sartori

Conductor: Balázs Kocsár
Director: András Almási-Tóth, Judit Niklai
Hosted by Melitta Gyüdi

Featuring the Hungarian State Opera Orchestra and Chorus
Giuseppe Verdi AIDA Opera in three parts, four acts, in Italian, with Hungarian, English, and Italian subtitles
Rock-opera production in Hungarian, with Hungarian and English surtitles
Zoltán Kodály Opera Total – Psalmus100 Concert in two parts
Opera-mix in two parts, is Hungarian with Hungarian and English surtitles The Barber of Seville / The Marriage of Figaro…
Recommended for children ages 4 to 10 Hungarian-language discussion programme.
Georg Friedrich Händel – Wolfgang Amadeus Mozart DER MESSIAS (MESSIAH) – concert Oratorio in three parts, without intermission, in Hungarian,…
Warning! The basket time limit is about to expire!
estimated time left:
00:00
Time limit has expired. Please, put item(s) in to basket again.
---