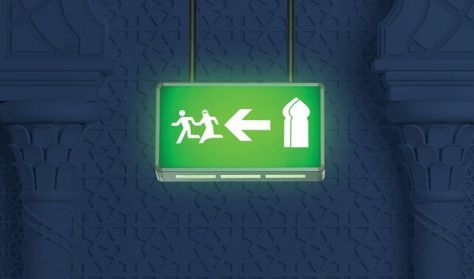 Die Entführung aus dem Serail (The Abduction from the Seraglio)
Singspiel in two acts, in Hungarian, with Hungarian and English surtitles
more
Nincs aktuális előadás
Ön egy múltbeli eseményre keresett rá. Kérjük, válogasson aktuális kínálatunkból a Jegy.hu keresőjében!
Last event date: Saturday, May 14 2022 11:00AM
A gripping plot – in this case the story of young lovers fighting to escape the seraglio – is in and of itself one of the keys to a successful dramatic work. However, the varied music written by a twenty-something Mozart, with its freshness and a few oriental touches, makes the singspiel The Abduction from the Seraglio completely irresistible. Staging his first opera production is Miklós H. Vecsei, a director of Mozartian youthfulness.  The production is sure to be fresh and sometimes a bit irreverent toward operatic traditions also thanks to video projection group Glowing Bulbs and a new Hungarian translation by Dániel Varró.

Featuring the modern and contemporary dance students and alumni of the Dózsa György High School and Vocational School of Dance.
AUTHORS
Composer: Wolfgang Amadeus Mozart
Hungarian text: Dániel Varró
Director: Miklós H. Vecsei
Dramaturg: Nikolett Németh
Costume designer: Kinga Réta Vecsei
Choreographer: Adrienn Vetési
Visuals and projection: Glowing Bulbs
English surtitles: Arthur Roger Crane
Chorus director: Gábor Csiki
CAST
Selim Pasha: József Wunderlich
Pedrillo: János Szerekován
Muezzin: Attila Ollé
Synopsis
PART I
Foreigners are rare on Pasha Selim's lands, this strange, almost magical place. However, this is exactly where Belmonte, a young European nobleman, ends up steering his ship. He has come for his betrothed, Kontstanze, who has fallen into the hands of human traffickers along with her friend, and both are now the captives of Pasha Selim.
Belmonte would immediately hurry to the palace to free everyone, but Osmin, the Pasha's bad-tempered servant, stops him and drives him away. But Belmonte is not thwarted: he hides and sees that his friends Blonde and Pedrillo are forced to work in the Pasha's factory. At just the right moment, Belmonte reveals himself to Pedrillo, who tells him that Pasha Selim is bombarding Konstanze with his love. He had taken her on a boat trip for a number of days and the two are just returning.
The Pasha approaches Konstanze gently, attempting to use rational arguments to convince her to love him. However, Konstanze keeps refusing him, telling him she is still in love with her fiancé Belmonte.
With Pedrillo's help, Belmonte introduces himself to the Pasha as an architect and manages to gain entry to the palace. Although the Pasha has given Blonde to Osmin, allowing her hot-headed and somewhat narrow-minded owner to do as he pleases with her, the young girl is not afraid of him, putting him in his place whenever she feels like it.
Konstanze is increasingly overcome by grief at being separated from her fiancé, which leads the Pasha to issue an ultimatum: he has lost his patience and demands her love from the next day. Konstanze's reply is yet another strong rejection. Pasha Selim gives up on using kind words and threatens to use force.

PART II
Pedrillo shares the great news with Blonde: Belmonte has arrived to free them! Blonde runs to tell Konstanze while Pedrillo drugs the guard Osmin, incapacitating him. The lovers can now finally meet, and Belmonte tells the others of his plan: he will set fire to Selim's factory, which is suspicious anyway, and while everyone is occupied with the fire, the four of them will escape with Belmonte's ship.
Night falls, and the escape starts according to plan. Osmin regains consciousness and sets his dogs on the escapees, forcing them into a corner. When Selim learns of the escape, he is boundlessly hurt and angry. He has the lovers thrown in prison and orders their execution.
At night in their cell, Konstanze and Belmonte pledge their eternal love for one another, and await death happily in each other's arms. Selim, who was eavesdropping and heard their honest and selfless proclamations of love, finally overcomes his desire for revenge, surrenders Konstanze, and releases the prisoners. Before leaving, the newly released lovers gratefully salute the generous ruler. Only Osmin is unhappy with the events, but no-one listens to him.
Hungarian-language tours start every day at 13:30, 15:00 and 16:30. Price: 5000 HUF
Gala concert in two parts
Opera in three parts, four acts, in Italian, with Hungarian and English subtitles
László Seregi / Károly Goldmark / Frigyes Hidas: THE TAMING OF THE SHREW This performance is not recommended for chrildren…
60-minute tour starts every day at 13:30, 15:00 and 16:30 in English. Price: 7000 HUF Beginning with 15 March 2022,…
Please note that guided tours are currently offered in Hungarian only. Please check back for availability in English later. Get…
Warning! The basket time limit is about to expire!
estimated time left:
00:00
Time limit has expired. Please, put item(s) in to basket again.
---