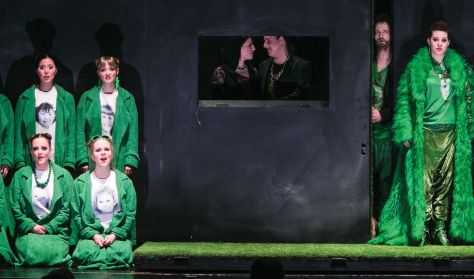 A Midsummer Night's Dream
Opera in two parts, in English, with Hungarian surtitles
British music is often faulted for having failed to produce a significant composer for three hundred years after Purcell. If ever a later composer felt it incumbent on himself to look back into England's past and write a piece based on the work of its most world-famous artistic genius, Shakespeare, it was Benjamin Britten, the first musical talent to be accepted into the international canon after such a long time. With its two dozen soloists and instrumental accompaniment of nearly the same size, A Midsummer Night's Dream verges on chamber opera. Benjamin Britten's production is only staged in Hungary quite rarely. The Opera presented it for the first time in 2016, in the Franz Liszt Academy of Music's Solti Hall, in a joint production – used as an examination performance – with the academy's solo voice department, with Máté Szabó directing.
AUTHORS
Libretto after Shakespeare by
Benjamin Britten / Peter Pears
Costume designer
Csörsz Khell
Costume designer
Anni Füzér
Hungarian surtitles after the translation of
Ádám Nádasdy
CAST
Oberon, king of the fairies
Zoltán Daragó
Titania, queen of the fairies
Andrea Brassói-Jőrös
Theseus, duke of Athens
Attila Dobák
Hippolyta, queen of the amazons, betrothed to Theseus
Lusine Sahakyan
Lysander, in love with Hermia
Ninh Duc Hoang Long
Demetrius, in love with Hermia
Attila Erdős
Hermia, in love with Lysander
Anna Csenge Fürjes
Helena, in love with Demetrius
Zsófia Nagy
Bottom, a weaver
Ferenc Endrész
Flute, a bellows-mender
Barna Bartos
Snug, a joiner
Bence Pataki
Snout, a tinker
András Farkas
Starveling, a tailor
Lőrinc Kósa
Cobweb, a fairy
Bernáth Éva
Peaseblossom, a fairy
Nikolett Mráz univ.stud.
Mustardseed, a fairy
Ildikó Szakács
Moth, a fairy
Gabriella Rea Fenyvesi univ. stud.
Opera in two parts, in a prologue and three acts, in Italian, with Hungarian and English surtitles
Opera in three acts, in English, with Hungarian and English surtitles By: George Gershwin, DuBose and Dorothy Heyward, and Ira…