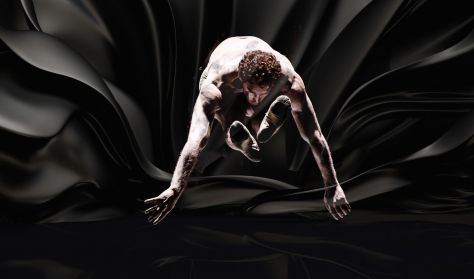 Pas de Quatre '22
Ballet evening in two parts
Looking Out, Looking In
more
Nincs aktuális előadás
Ön egy múltbeli eseményre keresett rá. Kérjük, válogasson aktuális kínálatunkból a Jegy.hu keresőjében!
We brought this panorama of Hungarian dance ensembles to life in 2013 with the name Pas de Trois '13. Under the aegis of this original initiative, the Ballet Company of Győr and Ballet Pécs made guest appearances in the home of the Opera's ballet ensemble. Then, in 2014, the Szeged Contemporary Ballet Company also joined the event, with the programme appropriately renamed Pas de Quatre, starting a tradition in which the country's four greatest ballet companies can all be seen on one night.
Hostess of the evening: Ildikó Megyimórecz 
Tamás Juronics
Blue
Authors
Choreographer: Tamás Juronics
Co-choreographer: Sándor Kurucz / Gergely Czár
Music compiled by: Mátyás Demkó
Lighting designer: Ferenc Stadler
Costume designer: D'ANGE
Sol León & Paul Lightfoot / P. Prado / A. Dominguez / E. Lecuona / R. Barretto / Trio Los Panchos
Sad Case

Choreographer: Sol León/ Paul Lightfoot
Music: Perez Prado / Alberto Dominguez/ Ernesto Lecuona/ Ray Barretto/ Trio Los Panchos
Lighting designer: Tom Bevoort
Set and costume designer: Sol León / Paul Lightfoot
Co-stager: Menghan Lou
Company répétiteurs: Marianna Venekei
Lóránd Zachár / Balázs Vincze / Sándor Szokolay
Ballad of loathing
Dancers: Karin Iwata, Marina Pérez Ahedo, Frank Edina, Kis Jana Luca,  Szendrey Rebeka, Balogh Csongor, José Blasco Pastor, Koncz Péter, Matola Dávid, Molnár Zsolt Harangozó-díjas, Szabó Márton, Varga Máté 
Authors
Choreographer: Lóránd Zachár
Co-choreographer: Balázs Vincze
Assistant to the choreographer: Katalin Újvári
Composer: Sándor Szokolay
Dramaturg: Teodóra Uhrik
Costume designer: Viktor Kozarics
András Lukács
Tabula rasa
Children's opera in two parts, in Hungarian, with Hungarian surtitles
60-minute tour starts every day at 13:30, 15:00 and 16:30 in English. Price: 3500 HUF Beginning with 15 March 2022, at the completely restored Opera House guided tours are available again for fans of architecture and culture. Get to know how this citadel of opera and ballet has been reborn, how the beautiful interior has regained its former glory, and what innovations have been installed to enable the staging of spectacular productions.
Musical drama in three acts, in German, with Hungarian and English surtitles
Pasticcio in two acts, in Italian, with Hungarian and English surtitles
Balletevening in three parts
Portraits with instrument
Warning! The basket time limit is about to expire!
estimated time left:
00:00
Time limit has expired. Please, put item(s) in to basket again.
---