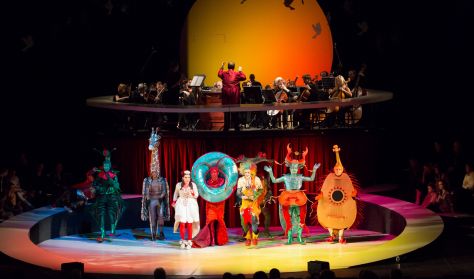 Parázsfuvolácska – The Magic Flute for Children
Wolfgang Amadeus Mozart
PARÁZSFUVOLÁCSKA – The Magic Flute for Children
Fairy-tale singspiel with intermission for pretzels, in Hungarian, with Hungarian and English surtitles
Although Mozart's opera is a fairy tale for grown-ups, its wondrous elements - the trial of Tamino and Pamina, the comic antics of Papageno, and not least of all, the enchanting music of Mozart - also make it a perfect introduction to the world of opera for children. It's just a matter of serving up the work to them in an appropriate fashion. The distinguished poet János Laczkfi, a father himself, has helped us re-conceive and rework The Magic Flute expressly for the enjoyment of little ones. With added attractions galore, youngsters of all ages are sure to be enchanted!
Gaetano Donizetti LA FILLE DU RÉGIMENT Comic opera in two acts, in French, with spoken dialogues in Hungarian, with Hungarian,…
Richard Wagner GÖTTERDÄMMERUNG Musical drama in three acts, in German, with Hungarian and English surtitles
Johann Sebastian Bach – Felix Mendelssohn-Bartholdy ST MATTHEW PASSION Oratorio in one part, in German, with Hungarian and English surtitles
Warning! The basket time limit is about to expire!
estimated time left:
00:00
Time limit has expired. Please, put item(s) in to basket again.
---