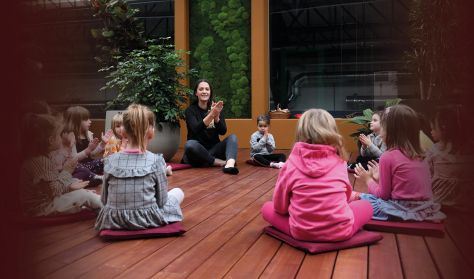 Opera Kindergarten
Let the children come to us! more
Nincs aktuális előadás
Ön egy múltbeli eseményre keresett rá. Kérjük, válogasson aktuális kínálatunkból a Jegy.hu keresőjében!
Last event date: Saturday, June 17 2023 9:30AM
Children who have grown out of the Lullaby age group also need music: in fact, it is even more important to convince them to actively participate, which may even lead to admission to the Opera Children's Chorus... That is the opportunity provided by Opera Kindergarten, led by the comely musician and mother Klára Ujvári, who also led the Lullaby programme. The events are available for all young children who like to sing and play and are interested in the stage. At these musical activities, playful stage exercises and movements are used to develop children's musical abilities, helping to prepare them for possible participation in the work of the Children's Chorus. The new series is held on Saturday mornings and offers opera themes, opera stories, and ballet music – all in Eiffel Art Studios' fantastic jungle, the plant-filled world of the Ottrubay Oasis.
The successive activities are held in mixed groups and are recommended for the kindergarten age group (3-6 years old). We also welcome their parents.
Kindergarten Teacher: Klára UjváriTechnical supervisor: Nikolett Hajzer Head of the Hungarian State Opera Children's Chorus
Location: Eiffel Art Studios - Ottrubay Oasis
09:30 on Saturdays (30 minutes)
Fairy tales and music from a far-off land Please note that this programme is in Hungarian and we do not provide any translations.
Johann Strauss Jr. DIE FLEDERMAUS (THE BAT) Operetta in three acts in Hungarian, with English and Hungarian surtitles
NEW YEAR'S AT THE OPERA HOUSE Concert
Giacomo Puccini TOSCA Opera in three acts, three parts, in Italian, with Hungarian, English, and Italian surtitles
A 60-minute tour starts every day at 13:30, 15:00 and 16:30 in English. To request a tour in other languages…
Georg Friedrich Händel – Wolfgang Amadeus Mozart DER MESSIAS (MESSIAH) – concert Oratorio in three parts, without intermission, in Hungarian,…
Warning! The basket time limit is about to expire!
estimated time left:
00:00
Time limit has expired. Please, put item(s) in to basket again.
---