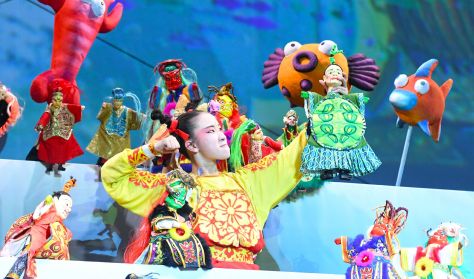 Norza: The Adventure to the Dragon Palace
Taiwan to Europe - Culture Touring
Norza: The Adventure to the Dragon Palace
The performance is in Chinese with Hungarian and English subtitles.
Nincs aktuális előadás
Ön egy múltbeli eseményre keresett rá. Kérjük, válogasson aktuális kínálatunkból a Jegy.hu keresőjében!
Last event date: Wednesday, June 21 2023 7:00PM
The program was organized by the General Association of Chinese Culture from Taiwan as part of the cultural exchange series "Taiwan in Europe - Culture Touring" and will be performed by the Paperwindmill Theatre Company.
"Norza" is a tutelary god for children. He is also the most rewritten Taiwanese legend among creatives. This story talks about how a little boy, Norza, becomes a hero protecting people from evil using empathy, courage, imagination, and wisdom
One day, Norza is at the beach with a friend. They accidentally meet the turtle brothers, who are out kidnapping children for dinner on the Dragon King's order. To save his friend, Norza travels down to the dragon palace with his born incredible strength and courage to seek justice. He defeats Dragon King's most loved third son. The prince is crying in pain and yelling, "cramps," which sounds like "pull the tendon" in Chinese. Norza, to help relieve the prince's pain, mistakenly pulls the "dragon tendon." Now, Norza is in big trouble. How can he resolve this conflict peacefully?
"Norza – The Adventure to the Dragon Palace" was performed in Mannheim, Germany (1990). The critic at Mannheimer Morgen wrote, "…switching between puppets and real humans on stage creates excitement and surprises for the audience. Fascinating kung fu armory martial arts tells a poetic and creative story."
Paper Windmill revived the show in 2022. Besides the traditional glove puppetry and the live performance, Norza has also combined traditional arts like Taiwanese Ba Jia Jiang (The Eight Generals) steps and Bei Guan Music. With the help of digital technology and modern theatrical creativities, the show layers 3D animation and mesmerizing lighting, turning the stage into a painting. The line between reality and virtuality is blurred on stage, carrying the audience thousands of miles away in one second.
László Seregi / Aram Ilyich Khachaturian SPARTACUS Ballet in three acts
Please note, that this programme is in Hungarian language and we do not provide translations! Interactive production for children based on the operetta János vitéz by Pongrác Kacsóh Who is valiant in small things is valiant also in large ones!
Giacomo Puccini SCHICCHI 2.0 Comic opera in one act, in Hungarian, with Hungarian surtitles
Wolfgang Amadeus Mozart PARÁZSFUVOLÁCSKA – The Magic Flute for Children Fairy-tale singspiel with intermission for pretzels, in Hungarian, with Hungarian…
Giacomo Puccini TOSCA Opera in three acts, three parts, in Italian, with Hungarian, English, and Italian surtitles
Georg Friedrich Händel – Wolfgang Amadeus Mozart DER MESSIAS (MESSIAH) – concert Oratorio in three parts, without intermission, in Hungarian,…
Warning! The basket time limit is about to expire!
estimated time left:
00:00
Time limit has expired. Please, put item(s) in to basket again.
---