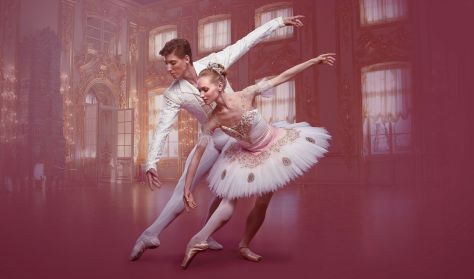 Without limits
M. Petipa / Solymosi T. / Mirzoyan A. / Prokofieva I. / W. Forsyte / H. Lander / L. Minkus / L. Delibes / F. Schubert: Without limits
Balletevening in two parts

more
Nincs aktuális előadás
Ön egy múltbeli eseményre keresett rá. Kérjük, válogasson aktuális kínálatunkból a Jegy.hu keresőjében!
Last event date: Sunday, May 01 2022 11:00AM
Without Limits. One classical and two neoclassical ballets that push the boundaries of achievability and demand superhuman performance and virtuosic technical skill from the dancers. The opening piece is the recently staged Paquita Suite, in which Albert Mirzoyan, Irina Prokofieva and Tamás Solymosi added new flavour to a pearl by the legendary choreographer Marius Petipa.
William Forsythe's piece The Vertiginous Thrill of Exactitude was intended as a true homage to classical technique, and it is wedged between two pieces by George Balanchine, Sylvia Pas de Deux and Theme & Variations, both showcasing technique, its practice and mastering.
William Forsythe / Franz Schubert
The Vertiginous Thrill of Exactitude
Although the works of American ballet dancer and choreographer William Forsythe use classical technique as their starting point, he is capable of thinking them through further, often taking them to the extreme. An example of this is his 11-minute piece The Vertiginous Thrill of Exactitude, created for three female and two male dancers. In it, solos, pas de deux, pas de trois and ensembles alternate, with no plot, to the virtuosic and sublime final movement of Schubert's ("Great") Ninth Symphony. 
The work, which today is already considered one of the most challenging short ballets to perform, pays tribute to classical technique. Joining In the Middle, Somewhat Elevated, it is the second of Forsythe's pieces to make it into the Hungarian National Ballet's repertoire.
"Agile, ethereal and precise." (Krisztina Horeczky, Tánckritika.hu)
M. Petipa / Solymosi T. / Mirzoyan A. / Prokofieva I. / L. Minkus / É. Deldevez / L. Delibes / R. Drigo / D. Auber
Paquita-suite
 Few works in classical ballet history have as many versions as the Paquita suite, also known as the Paquita Grand pas (classique). The new piece was created by Marius Petipa on the basis of the French ballet Paquita by working together with composer Ludwig Minkus to select the main musical numbers. Ever since the original premiere in Russia in 1882, the piece has used as many variations and solos, including additions from external sources, as dreamed up by the choreographer of the given production. In fact, a unique attribute of the piece is that the performing dancers often determine the numbers to dance or even perform choreographies prepared specifically for them.
Harald Lander / Carl Czerny / Knudåge Riisager
Études
Études is one of choreographer Harald Lander's most outstanding creations, one that he crafted for the Danish Royal Ballet in 1948. Beginning with the five positions of ballet and exercises beside the bare, it goes on to show certain parts of the rehearsal process, finally culminating in the grand finale of the completed Performance. Études depicts the everyday work of ballet dancers in its full reality and grandeur: the beauty and aesthetics of classical ballet and the joy and thrill of Dance.
"Both ballets are extreme compilations of vigorous ballet technique. Those ballets require virtuosity in bursts, often punctuating less onerous scènes d'action; these ballets require a lexicon of the toughest dance vocabulary, from start to finish….In particular, one must applaud the excellence of the ballet masters for the overall magnificence of the corps de ballet across both works." (Graham Watts, Bachtrack)
On account of the corona situation and only for the planned performances of Etudes April-May 2022 Lise Lander gives an exceptionel permission to the Hungarian National Ballet to perform the ballet without orchestra.
Gala concert in two parts
Opera in three parts, four acts, in Italian, with Hungarian and English subtitles
Opera in three parts, in three acts, with prologue and epilogue, in French, with Hungarian and English surtitles
Hungarian-language tours start every day at 13:30, 15:00 and 16:30. Price: 5000 HUF
Opera in two parts, three acts, in Hungarian, with Hungarian and English surtitles The text and musical material for the…
Opera in three acts, in Italian, with Hungarian and English surtitles
Warning! The basket time limit is about to expire!
estimated time left:
00:00
Time limit has expired. Please, put item(s) in to basket again.
---