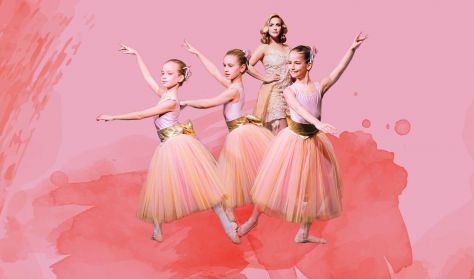 Little Swan Lake
Children's production for little ones
Please note, that this programme is in Hungarian and we do not provide any translations.
more
The story of the white swan and the black swan is classical ballet itself. And if presenting this ballet of all ballets set to Tchaikovsky wonderful music along with the Opera's ballet company are young developing dancers, then we can count on piquing the interest of the youngest – kindergarteners and smaller schoolchildren – generation. In a little over an hour, the narrative features the students as it summarises the loveliest moments of the story until the time comes for the actual professional dancers to join in so that we can come face to face with the Prince and the five ethereal Swan Girls who accompany him.
This production features the students of the Hungarian National Ballet Institute and the dancers of the Hungarian National Ballet. 
AUTHORS 
Libretto: Borbála Szabó
Choreographer / Repetiteur: Olga Chernakova | Dmitrij Taraszovics Kirejko | Dénes Kovács | Katalin Kőszegi | Kornélia Mráz | Tamara Pavlova | Dace Radina |Kateryna Tarasova
CAST
Prince: Kóbor Demeter | Raffaello Barbieri
Odette / Odile: Anastasiia Konstantinova | Elena Sharipova
Rothbart: Nyikolaj Ragyus | Pavel Ostapenko
Little SleepingBeauty - premiere Youth programme This performance is not recommended for chrildren under the age of 4.
Opera in two acts, in Hungarian, with Hungarian and English surtitles
Please note, that this programme is in Hungarian language and we do not provide translations! Interactive production for children based…
Warning! The basket time limit is about to expire!
estimated time left:
00:00
Time limit has expired. Please, put item(s) in to basket again.
---