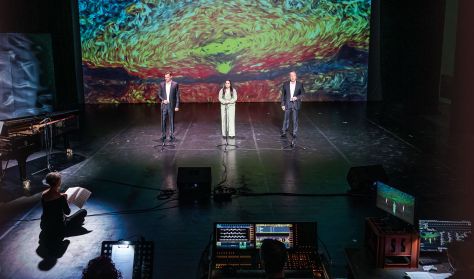 Treasure Hunters
Miners of Opera Peripheries
more
Nincs aktuális előadás
Ön egy múltbeli eseményre keresett rá. Kérjük, válogasson aktuális kínálatunkból a Jegy.hu keresőjében!
Last event date: Saturday, May 14 2022 4:00PM
Since the opera was first conceived four hundred years ago, tens of thousands of works have been written in the genre. Not all were or could be successful: even the majority of the pieces that were written in gilded gold in 1884 by our noble predecessors when building the Opera House are no longer played or even known. In this series, the Opera's new generation of singers is targeting this collection of works that were once successful and were therefore considered valuable at the given time but lies outside the boundaries of the central repertoire. The pieces are brought to life with the use of piano cross-sections introduced by professionals in the field, as a kind of delayed Opera Wednesday held on Saturdays. The Treasure Hunters series will also be available on the Opera's social media sites.Pieces1. Händel Rinaldo2. Weber Oberon 3. Rossini Le comte Ory4. Donizetti Viva la mamma5. Delibes Lakmé 6. Janáček The Cunning Little Vixen 7. Weill Rise and Fall of the City of Mahagonny 8. Ferenc Farkas Csínom Palkó
Editors
András Almási-Tóth
Balázs Kocsár
Director
Attila Toronykőy
Featuring
Barna Bartos
Bernáth Éva
Andrea Brassói-Jőrös
Ferenc Endrész
András Farkas
Anna Csenge Fürjes
György Hanczár
Melinda Heiter
Lőrinc Kósa
Lusine Sahakyan
Ildikó Megyimórecz
Ninh Duc Hoang Long
Dalma Süle
Ildikó Szakács
Laura Topolánszky
Béla Turpinszky Gippert
Featuring on piano
Márton Kiss
Eszter Sotkó
Dávid Sárosi
Katalin Zsubrits
Andrea Lengyel
Attila Horváth
Zsolt Tamássyk Balogh
Bettina Foskolos
Comic opera in two parts, four acts, in Italian, with Hungarian and English surtitles
Recommended for children ages 4 to 7
Opera in three acts, in Italian, with Hungarian and English surtitles
Children's opera in two parts, in Hungarian, with Hungarian surtitles
Opera-mix in two parts, is Hungarian with Hungarian and English surtitles The Barber of Seville / The Marriage of Figaro…
ROST ANDREA ft. HOT JAZZ BAND Songs from a Girl's Bedroom – I Could Have Danced All Night A special…
Warning! The basket time limit is about to expire!
estimated time left:
00:00
Time limit has expired. Please, put item(s) in to basket again.
---