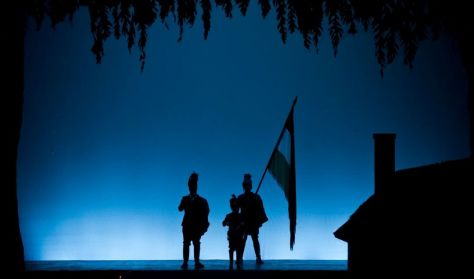 4
John the Valiant
Singspiel in three parts, in Hungarian, with Hungarian and English surtitles

more
'I, the shepherd king, graze my flock. (...) For my name is... my name is Johnny Corn!'
That is, John the Valiant. Sándor Petőfi's narrative poem, dubbed the 'Hungarian Odyssey' by the Hungarian author Dezső Kosztolányi, was first published in 1845. In 1904, the work inspired the creation of a dramatic musical work, a singspiel with the legendary Sári Fedák in the title role.

Now the work's parade of characters return to life on the stage of the Erkel Theatre, in the staging of Sándor Palcsó.


General cast
Conductor.................................Rácz Márton
János the Hussar ....................Gergely Ujvári
Iluska........................................Kinga Kriszta
Bagó.........................................Zoltán Nagy
The French King.......................Péter Haumann
The French Princess.................Ágnes Molnár
Iluska's stepmother...................Éva Balatoni
Sergeant...................................Róbert Rezsnyák
The field guard of the village.....András Kőrösi
Bartolo, a scientist.....................Péter Kiss

Credits
Music revised by: Jenő Kenessey
Librettist: Károly Bakonyi / Jenő Heltai
English surtitles: Arthur Roger Crane
Director: Sándor Palcsó
Costume designer: Attila Csikós
Costume designer: Judit Beda
Choreographer: András Nádasdy / Andrea P. Merlo
Acting chorus director: Gábor Csiki
Premier: 17/12/2003
Nóra Rományi and István Rózsa have reconceived the visuals, based on the original…
Opera-mix in two parts, is Hungarian with Hungarian and English surtitles The Barber…
Opera in two parts, four acts, in Italian, with Hungarian and English surtitles