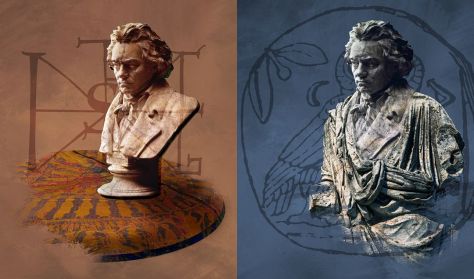 König Stephan / Die Ruinen von Athen
Félszcenírozott előadás magyar és német nyelven
Ludwig van Beethoven
King Stephen (König Stephan)
The complete title of Beethoven's incidental music, written for a play by August von Kotzebue, was King Stephen, or Hungary's First Benefactor. Over the course of a brief period during the autumn of 1811, Beethoven crafted an overture and nine movements incorporating the chorus. The musical numbers follow each other only loosely: first illustrating the great monarch's personality, then the adoption of Christianity and the establishment of the Hungarian kingdom. The choral movement and solo numbers depict the victorious monarch, his marriage to Gizella, his lawmaking, as well as the scene when the Papal emissaries offer him the crown, along with the coronation itself. Today, it is chiefly the King Stephen Overture, built on verbunkos themes, that is familiar to audiences.
Ludwig van Beethoven – Richard Strauss
Die Ruinen von Athen (The Ruins of Athens)
An ancient story – modern questions Pál Oberfrank's version of Beethoven's incidental music pieces entitled The Ruins of Athens depicts a story all too familiar to today's audiences. Everything that surrounds us, global climate change, the pandemic, mass immigration, result in enormous pressure and continuous change, often leading to ruin. The Ruins of Athens premiered in Budapest in 1812, on the same night as Beethoven's King Stephen, at the opening of the German Theatre of Pest. More than a century after completion, the piece caught the eye of the productive pairing of the dramaturg Hugo von Hofmannsthal and the composer Richard Strauss, who reworked the composition of the piece, which had originally been written to text by August von Kotzebue.
Featuring the artists on the Hungarian National Ballet:
Barbara Kerényi (solo), Kristóf Morvai, Dénes János Darab, Francesco Sardella, Dávid Molnár, Christian Mathot, Vince Topolánszky, Louis Scrivener, Riku Yamamoto, Dmitry Zhukov, Luca Calcante
Music drama in one act, in German, with Hungarian and English surtitles The…
Opera in two parts, four acts, in Italian, with Hungarian and English surtitles
Opera in two parts, three acts, in Hungarian, with Hungarian and English surtitles