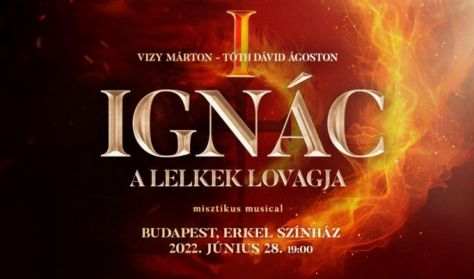 Ignác - A lelkek lovagja
Egy kardforgató lovag – aki aztán fegyverét Szűz Máriának ajánlja fel. Egy középkori szívtipró – aki megtérése után lemond a házaséletről, és papnak, szerzetesnek áll. Egy nem különösebben népszerű szent – aki társaival megalapítja napjaink egyik legnagyobb szerzetesrendjét.
Vizy Márton - Tóth Dávid Ágoston: Ignác – A lelkek lovagja

A jezsuiták 2021-2022-ben ünneplik alapítójuk, Loyolai Ignác megtérésének 500., illetve szentté avatásának 400. évfordulóját. A kettős jubileum kiemelt eseményeként a miskolci Fényi Gyula jezsuita gimnázium Magis kórusa az Erkel Színházban is előadja Vizy Márton és Tóth Dávid Ágoston Ignác – A lelkek lovagja című musicaljét. A darab modern, humorral teli, fülbemászó dallamokkal mutatja be a rendalapító életútját.

További részletek: https://jezsuita.hu/szent-ignac-musical/

Az előadás több száz diák és tanáraik önkéntes munkája révén valósul meg. Ha a mérsékelt jegyáron felül is támogatná a darab színpadra állítását, adományát az alábbi oldalon ajánlhatja fel: adomany.jezsu.hu
Opera in three acts, in Italian, with Hungarian and English surtitles
Wolfgang Amadeus Mozart LA FINTA GIARDINIERA (THE PRETEND GARDEN-GIRL) Comic opera in three acts, two parts, in Italian with Hungarian…
Opera in two acts, in Hungarian, with Hungarian and English surtitles
Warning! The basket time limit is about to expire!
estimated time left:
00:00
Time limit has expired. Please, put item(s) in to basket again.
---