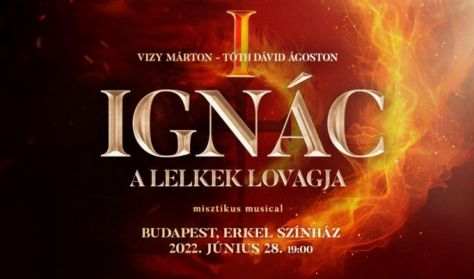 Ignác - A lelkek lovagja
Egy kardforgató lovag – aki aztán fegyverét Szűz Máriának ajánlja fel. Egy középkori szívtipró – aki megtérése után lemond a házaséletről, és papnak, szerzetesnek áll. Egy nem különösebben népszerű szent – aki társaival megalapítja napjaink egyik legnagyobb szerzetesrendjét.
Nincs aktuális előadás
Ön egy múltbeli eseményre keresett rá. Kérjük, válogasson aktuális kínálatunkból a Jegy.hu keresőjében!
Last event date: Tuesday, June 28 2022 7:00PM
Vizy Márton - Tóth Dávid Ágoston: Ignác – A lelkek lovagja

A jezsuiták 2021-2022-ben ünneplik alapítójuk, Loyolai Ignác megtérésének 500., illetve szentté avatásának 400. évfordulóját. A kettős jubileum kiemelt eseményeként a miskolci Fényi Gyula jezsuita gimnázium Magis kórusa az Erkel Színházban is előadja Vizy Márton és Tóth Dávid Ágoston Ignác – A lelkek lovagja című musicaljét. A darab modern, humorral teli, fülbemászó dallamokkal mutatja be a rendalapító életútját.

További részletek: https://jezsuita.hu/szent-ignac-musical/

Az előadás több száz diák és tanáraik önkéntes munkája révén valósul meg. Ha a mérsékelt jegyáron felül is támogatná a darab színpadra állítását, adományát az alábbi oldalon ajánlhatja fel: adomany.jezsu.hu
Rudi van Dantzig / Toer van Schayk / Pyotr Ilyich Tchaikovsky SWAN LAKE Classical ballet in three acts
Guaranteed tours: A 60-minute tour starts every day at 13:30, 15:00 and 16:30 in English and French. To request a tour in other languages (Spanish, Russian, German), please get in touch with the OperaTour team. Price: 7000 HUF
Johann Strauss Jr. DIE FLEDERMAUS (THE BAT) Operetta in three acts in Hungarian, with English and Hungarian surtitles
Vizy Márton – Tóth Dávid Ágoston Ignác – A lelkek lovagja musical két felvonásban
Children's production for little ones
Henry Purcell DIDO & AENEAS Opera in three acts, one part, in English, with Hungarian and English surtitles
Warning! The basket time limit is about to expire!
estimated time left:
00:00
Time limit has expired. Please, put item(s) in to basket again.
---