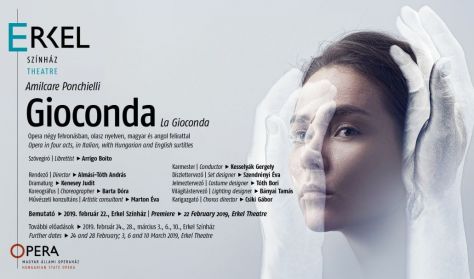 Gioconda
Opera in two parts, four acts, in Italian, with Hungarian and English surtitles
Amilcare Ponchielli: La Gioconda
Amilcare Ponchielli
La Gioconda
Ponchielli's most famous opera whisks the audience back to the magical, but at the same time, dangerous Venetian Republic of the 17th century. The piece's protagonist is a street singer named Gioconda. In spite of her name, which means "the jovial one", her life takes a tragic turn owing to the intrigues of a diabolically evil figure who is hopelessly in love with her.
Ponchielli and Boito employ nearly every available trope of grand opéra: the carnival masquerade, the love triangle, unexpected twists, poison, a blind woman denounced as a witch, stirring crowd scenes – and dance: the best-known part of the opera is the ballet interlude the Dance of the Hours.
This work in the style of French and Italian grand opera is being premiered at the Opera in a production directed by András Almási-Tóth.
Premier: 22/02/2019
Opera in two acts, in Hungarian, with Hungarian and English surtitles
Fairy-tale ballet in three acts
Rudi van Dantzig / Toer van Schayk / Pyotr Ilyich Tchaikovsky: Swan Lake…