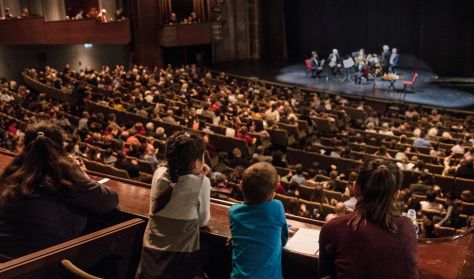 Fülelő I.
Orchestra matinée at the Opera House
Nincs aktuális előadás
Ön egy múltbeli eseményre keresett rá. Kérjük, válogasson aktuális kínálatunkból a Jegy.hu keresőjében!
Last event date: Saturday, February 12 2022 11:00AM
The Opera Orchestra has participated in a number of series where children or families were invited to the stage: the Tales of Music series hosted by the Philharmonics is just such an event. In the future, it will continue to be organised in the Opera's theatres and with the Opera's orchestra (see: page 196). However, never before has there been such a special program in which the Opera Orchestra introduces the various generations of families to the world of symphonic music, the opera, and ballet music.
Conductor
Frédéric Chaslin
Music History Commentary
Dániel Mona
Featuring
the Hungarian State Opera Orchestra
Opera in two acts, in Hungarian, with Hungarian and English surtitles
60-minute tour starts every day at 13:30, 15:00 and 16:30 in English. Price: 3500 HUF Beginning with 15 March 2022, at the completely restored Opera House guided tours are available again for fans of architecture and culture. Get to know how this citadel of opera and ballet has been reborn, how the beautiful interior has regained its former glory, and what innovations have been installed to enable the staging of spectacular productions.
Egy kardforgató lovag – aki aztán fegyverét Szűz Máriának ajánlja fel. Egy középkori szívtipró – aki megtérése után lemond a…
Opera in three acts, in Italian, with Hungarian and English surtitles
Musical drama in three acts, in German, with Hungarian and English surtitles
Warning! The basket time limit is about to expire!
estimated time left:
00:00
Time limit has expired. Please, put item(s) in to basket again.
---