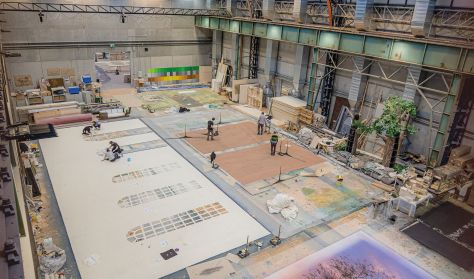 Painters' workshop
The fine arts and opera at Eiffel
Hungarian-language discussion programme.
Anyone who has not yet seen it has to visit the Opera painter's studio located at Eiffel Art Studios. This is where the enormous sets are designed and the set elements are painted for the Opera House, Erkel Theatre, and the Bánffy Stage. The Opera's workshop employs painters who are happy to teach both children and adult children, and in the Gusztáv Oláh painting workshop no less!
Technical supervisors: Miklós Resz Scenic Artist
Location Eiffel Art Studios - Oláh Painting Workshop
The events (90 minutes) are held starting 10:45 am on each second Saturday of the monthHungarian-language discussion programme.
Fairy tales and music from a far-off land Please note that this programme is in Hungarian and we do not…
Musical Fun with Little Ones – musical education for children aged 3 and under Please note that this programme is…
Recommended for children ages 4 to 7
Warning! The basket time limit is about to expire!
estimated time left:
00:00
Time limit has expired. Please, put item(s) in to basket again.
---