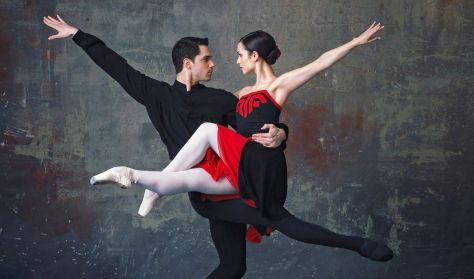 Frenetic Dance
Johan Inger – William Forsythe – Hans van Manen – Sol León – Paul Lightfoot
FRENETIC DANCE
Four one-act ballet in three parts
Johan Inger / Maurice Ravel – Arvo Pärt
WALKING MAD
A wall, 3 female and 6 male dancers, and Ravel's Bolero. This is the base of Swedish choreographer Johan Inger's one-act ballet, which he originally created for the Netherlands Dans Theatre in 2001.
The minimalist space takes newer and newer shapes for the ever intensifying music, and newer and newer characters appear in it, in more and more mad situations and states. 
"The famous Bolero from Ravel with its sexual, almost kitschy history was the trigger point to make my own version. I quickly decided that it was going to be about relationships in different forms and circumstances. I came up with the idea of a wall that could transform the space during this minimalistic music and create small pockets of space and situations. Walking Mad is a journey in which we encounter our fears, our longings and the lightness of being.
»Our biggest blessings come to us by way of madness« - said Socrates."
Johan Inger
William Forsythe / Franz Schubert
THE VERTIGINOUS THRILL OF EXACTITUDE
Although the works of American ballet dancer and choreographer William Forsythe use classical technique as their starting point, he is capable of thinking them through further, often taking them to the extreme. An example of this is his 11-minute piece The Vertiginous Thrill of Exactitude, created for three female and two male dancers. In it, solos, pas de deux, pas de trois and ensembles alternate, with no plot, to the virtuosic and sublime final movement of Schubert's ("Great") Ninth Symphony. 
The work, which today is already considered one of the most challenging short ballets to perform, pays tribute to classical technique. Joining In the Middle, Somewhat Elevated, it is the second of Forsythe's pieces to make it into the Hungarian National Ballet's repertoire.
"Agile, ethereal and precise." (Krisztina Horeczky, Tánckritika.hu)
Hans van Manen / Astor Piazzolla
FIVE TANGOS
Five Tangos is one of Hans van Manen's best known and, deservedly, most popular works: superb music and dance combine to evoke a pulsing metropolis and a world of fiery and passionate instincts. Sometimes sultrily lethargic and other times set to accelerating tempos featuring virtuoso elements, this thrilling work plays with solo and group scenes to reveal the changing games of the individual and the community, the many faces and layers of love and attraction and a portrait of an era.
Sol León & Paul Lightfoot / P. Prado – A. Dominguez – E. Lecuona – R. Barretto – Trio Los Pancho
SAD CASE
"Now in hindsight we realise that energy is everything. When we created Sad Case in 1998, so far in to Sol's pregnancy, the hormones were jumping and emotions were high.  It is these hormones of laughter, madness and the trepidation of the unknown ahead that are the umbilical chord of this work," says the British Paul Lightfoot, thinking back to the origin of the ballet. He and his partner, the Spanish Sol León share credit for the performance's choreography and set and costume designs. Up until 2020, León worked as artistic consultant and Lightfoot as artistic director for the Nederlands Dans Theater (NDT), where they were responsible for bringing about sixty creations, including Sad Case, which is undoubtedly one of the pillars of their work. In it, surprising movements set to Mexican mambo music reflect the ongoing search for the tension between the satirical and the serious. The Opera has long planned the staging of this irresistible modern piece for Hungarian audiences – and by way of it, the art of the world-famous Lightfoot.
Johann Sebastian Bach – Felix Mendelssohn-Bartholdy ST MATTHEW PASSION Oratorio in one part, in German, with Hungarian and English surtitles
John Cranko / Pyotr Ilyich Tchaikovsky – Kurt-Heinz Stolze ONEGIN Three-act ballet by John Cranko, Based on the novel by…
Giuseppe Verdi AIDA Opera in three parts, four acts, in Italian, with Hungarian, English, and Italian subtitles
Warning! The basket time limit is about to expire!
estimated time left:
00:00
Time limit has expired. Please, put item(s) in to basket again.
---