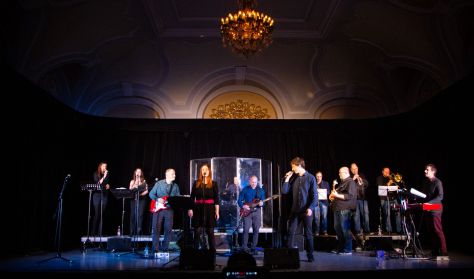 Eljöttünk Hozzád - karácsonyi keresztény könnyűzene
Karácsonyi könnyűzene
Nincs aktuális előadás
Ön egy múltbeli eseményre keresett rá. Kérjük, válogasson aktuális kínálatunkból a Jegy.hu keresőjében!
Last event date: Saturday, December 10 2022 6:00PM
Fodor Tamás (zene) és Bayer Róbert (szöveg) dalciklusa a Bibliából ismert születéstörténet új köntösben: a Szentcsalád pillanatait mutatja be az első karácsonykor – könnyűzenei stílusban. A reggae-től kezdve a rockon keresztül a Fodor Tamástól megszokott műfaj-gazdagságban, költői képekben, lírai szöveggel.

Az Eljöttünk Hozzád Zenekar tagjai:
Számel Soma – dob
Huszák Zsolt – basszusgitár
Csonka Gabriella – ének
Gedeon András – ének
Marczell Márton – billentyű
Bellák Miklós – gitár
Skerlecz Gábor Skeki – harsona
Zsemlye Sándor – szaxofon

Az egyórás műsor – életkortól függetlenül – mindenki számára tartogat meglepetést, aki a karácsony történéseit idén egy másik szemszögből, de legalább olyan mélyen, emberi megközelítésben szeretné átélni! Ezen az előadáson már nem hallhatjuk Fodor Tamás énekhangját és gitárjátékát, de a zenéjén keresztül velünk lesz, az estét az ő emlékének szenteljük.
György Ránki: KING POMADE'S NEW CLOTHES Contemporary Opera Children's opera in one part, in Hungarian, with Hungarian and English surtitles.
Recommended for children ages 4 to 7 Hungarian-language discussion programme.
A 60-minute tour starts every day at 13:30, 15:00 and 16:30 in English. To request a tour in other languages (Spanish, Russian, German and French), please get in touch with the OperaTour team. Price: 7000 HUF Please note that the auditorium is closed for visits during rehearsals. In case a guided tour takes place at such a time, the route takes visitors to special, hitherto unseen areas. Guided tours are not available during performances.
A concert by the OPERA Orchestra
Opera in three acts, in German, with Hungarian and English surtitles
Giuseppe Verdi The Masquerade Ball Opera in three parts, in three acts, in Italian, with Hungarian, English, and Italian subtitles
Warning! The basket time limit is about to expire!
estimated time left:
00:00
Time limit has expired. Please, put item(s) in to basket again.
---