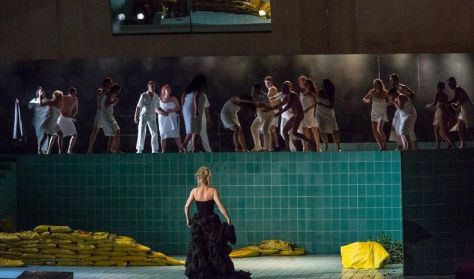 Elektra
Richard Strauss
ELEKTRA
Opera in one act, in German, with Hungarian and English surtitles
"So many grandly constructed and amazingly nuanced scenes! Full of ambivalences, the initial kinship of the three female characters and the antagonism growing out of the insolubilities of life – paradox fusing into complexity. Flung from one perspective to the next, we can only agree with Klytämnestra: Was die Wahrheit ist, das bringt kein Mensch heraus: what the truth is, no man will ever unravel," wrote Géza Fodor of Balázs Kovalik's production.
Richard Strauss wrote an overwhelming one-act masterpiece to Hofmannsthal's libretto, an opera of feminine tragedy. It is a faithful adaptation of the Greek tragedy, pitting reconciliation, revenge and madness stoked by a troubled conscience one against the other.
Levente Szörényi – János Bródy STEPHEN, THE KING Rock-opera production in two parts, in Hungarian, with English surtitles
Sir Kenneth MacMillan / Franz Liszt / John Lanchbery: MAYERLING Ballet in three acts
Opera in three parts, four acts, in Italian, with Hungarian and English subtitles
Warning! The basket time limit is about to expire!
estimated time left:
00:00
Time limit has expired. Please, put item(s) in to basket again.
---