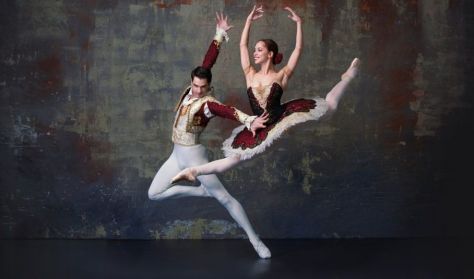 Don Quixote
Marius Petipa / Alexander Gorsky / Kasyan Goleizovsky / Michael Messerer / Ludwig Minkus
DON QUIXOTE
Classical ballet in three acts
Information on standing places for sold-out performances
If all seats are sold out for the selceted time, 64 standing seats at reasonable prices for the 3rd floor balcony become available 2 hours before the start of the performance. Tickets can be purchased at the Opera House ticket office and online. Please note there is limited view from the side seats and the standing places, but the performance can be followed on screens.
An avid and passionate reader of chivalric romances, Don Quixote decides that for the sake of his own glory and the common good, he must set out in search of adventures as a knight-errant. He sets for himself an objective no lower than to redress grievances, right wrongs and repair injustices. The popular story of the Knight of the Woeful Countenance was presented in a new production at the OPERA in 2016. The legendary 1940 Moscow performance featuring choreographies by Petipa, Goleizovsky and Gorsky was tailored-made for the Hungarian National Ballet by internationally renowned Russian master Michael Messerer assisted by Hungarian set and costume designers.
Libretto after the novel of the same title by Miguel de Cervantes: Marius Petipa
Choreographer: Alexander Gorsky, Marius Petipa, Kasyan Goleizovsky, Michael Messerer
Set designer: István Rózsa
Costume designer: Nóra Rományi
Lighting designer: Kirk Bookman
Répétiteurs: Olga Sabadosh, Evgeny Popov, Anna Andrushko, Ksenia Oyvental
Company répétiteurs: Albert Mirzoyan, Ildikó Pongor, Irina Prokofieva, Tamás Solymosi, Marianna Venekei
Warning! The basket time limit is about to expire!
estimated time left:
00:00
Time limit has expired. Please, put item(s) in to basket again.
---