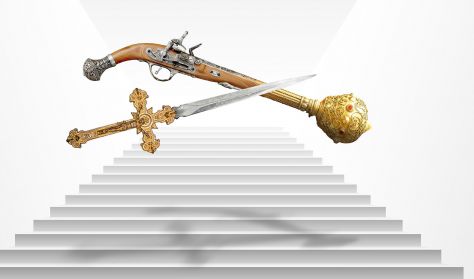 Don Carlo
Opera in five acts, in Italian, with Hungarian and English surtitles

more
Nincs aktuális előadás
Ön egy múltbeli eseményre keresett rá. Kérjük, válogasson aktuális kínálatunkból a Jegy.hu keresőjében!
Last event date: Saturday, June 18 2022 6:00PM
"16th-century Spain. State and church are engaged in a ruthless and devastating struggle for dominance over the people. Every rebellion and every attempt to establish a humane social order is strangled at birth. Humanistic ideals are doomed to death from the start, and those professing them find themselves being burnt at the stake by the Inquisition. The greatest victim in all of this is none other than the king's son, the prince Don Carlo. He is the one who dares to love, to step up for the freedom of the oppressed people and to challenge both the church and the state, shaking up their system of power…" This is the take of Frank Hilbrich, the director of the production, who adds that "Verdi portrays this painful recognition in Schiller's stage play Don Carlos with grandiose music.
There is no other composer for whom individual freedom could have taken on such importance. With this opera, he paints a frightening picture of human civilisation."
Verdi took Schiller's drama, a work whose nearly every line is permeated with social and political ideas, and poured it into music in a way that emphasises individual emotions and spiritual vibrations. Hilbrich, a director who has long been recognised across the German-speaking world, earned his international reputation chiefly with Wagnerian productions, as well as with contemporary operas.


CAST
Conductor: Leonardo Sini
Filippo II: András Palerdi
Don Carlo: Carlo Ventre | Adorján Pataki
Elisabetta di Valois: Zsuzsanna Ádám
La principessa d'Eboli: Erika Gál
The Grand Inquisitor: Géza Gábor
Il Conte di Lerma: József Mukk
A voice from Heaven: Eszter Zemlényi
AUTHORS
Original libretto after the drama by Schiller: Joseph Méry | Camille du Locle
Original French-language libretto translated into Italian by Achille de Lauzières | Angelo Zanardini
Director: Frank Hilbrich
Set designer: Volker Thiele
Costume designer: Gabriele Rupprecht
Dramaturg: Eszter Orbán
Hungarian surtitles: Eszter Orbán
English surtitles: Arthur Roger Crane
Chorus director: Gábor Csiki
Synopsis
Act I
The Forest of Fontainebleau. The Spanish Infante Don Carlos has secretly, hiding his identity, joined the Spanish delegation without the knowledge of his father King Philip II, so he can see his betrothed, Elisabeth of Valois, whom he is to marry after the impending peace treaty. They meet in the forest, and Carlos immediately falls in love. He hands over an image of the heir to the throne, and Elisabeth is overjoyed to see she has just met her future husband. She no longer has to be worried about her marriage. They profess their love to each other.
Tebaldo, Elisabeth's page arrives with the news that the King of France has decided not to marry his daughter to the heir, but rather to his father, the King. However, Philip lets Elisabeth make the choice, as he wants the girl's hand of her own free will. The people, weary of war, beg her to say yes and end their suffering. Elizabeth has no choice but to accept Philip as her husband.

Act II
The monastery of Saint-Just. Carlos seeks solace at the grave of his grandfather, Charles V, where a monk addresses the young man: "Only heaven can quell the hurt of the heart."
Carlos's old friend, the Marquis of Posa arrives from Flanders, where King Philip's soldiers are fighting a bloody war against the Reformation. Carlos confides that he is secretly in love with Elisabeth, who is now his stepmother. Posa recommends that Carlos delve into tasks worthy of a future king: he should leave for Flanders to act as its governor. The two men swear eternal friendship and freedom.
The Queen's garden. Elisabeth's ladies-in-waiting are enjoying themselves with Princess Eboli. Eboli, who is secretly in love with Carlos, performs an erotic song. The melancholy Elisabeth enters, after which the Marquis of Posa asks for an audience. He is bringing a letter from Paris along with a secret message: "Trust in him who gives you this letter. Carlos." The Marquis of Posa asks the Queen to grant audience to his stepson. Elisabeth says yes, Posa leaves her, and Elisabeth sends everyone away.
Carlos thus finds the Queen alone. He asks her to request the King to send him to Flanders. Elisabeth promises his stepson to act on his behalf at the King. Carlos become euphoric and imagines that they can once again be each other's. Elisabeth seemingly wakes him from his dreaming, and Carlos hurries off.
The King and his attendants enter. Philip is astonished that his wife is alone, for which the Countess of Aremberg is responsible: the King immediately dismisses her. Elisabeth bids a painful farewell to her last true friend at the Spanish court.
The Marquis of Posa would follow the court, but the King stops him and asks him why the Marquis did not request an audience, as he would be due royal favour for his services. Posa courageously speaks out for the freedom of Flanders. Although Philip does not even want to hear of giving any leeway to the rebellious, reformed Flanders, he is taken by Posa's bravery and confides in him, asking Posa to obtain proof or dispel the King's suspicions that Elisabeth and Carlos are having an affair.

Act III
The Queen's garden. Midnight. Carlos arrives, following the instructions of an anonymous message: "Midnight, in the Queen's garden..." He believes Elisabeth sent him the message and joyfully awaits his love. But it is Eboli who arrives in disguise; mistaken, Carlos professes his love for her. But the Princess warns the surprised Carlos, telling him he is danger: the King and Posa often talk of him in secret. Eboli wants to protect her love, but Carlos gently deflects, causing Eboli to realise that he is in love with someone else.
Posa arrives and attempts to avert the threat, but it is too late. Carlos realises that he has unwittingly brought danger on Elisabeth: Eboli vows to exact revenge, and storms off. Posa asks Carlos for his important papers so he can keep them safe. For a moment, Carlos is uncertain: he has just learned that Posa has become the King's confidant. Should he still entrust his most important valuables to Posa? After some deliberation, he hands them over.
In front of the Cathedral. The people are waiting for an auto-da-fé while praising Philip II. The King and his attendants arrive. Philip swears before God and the people that he will protect the crown with fire and sword. Carlos leads Flemish envoys to the King. They ask Philip for freedom for the Flemish people, and Carlos asks his father to grant him authority to govern Brabant and Flanders. Philip calls the Flemish people untrue to God and Carlos crazy. The Infante draws his sword. Nobody dares disarm him until Posa finally steps forward to carry out the King's command. The Infante disconsolately hands over his weapon to the Marquis. The executions begin. A heavenly voice can be heard calling condemned souls who seek forgiveness and peace to the throne of God.

Act IV
The King's room. Dawn is approaching. Philip suffers from insomnia. He is always troubled by the thought that Elisabeth never loved him. The Grand Inquisitor arrives. The King had called him to ask whether the Church would forgive him if he would put his own rebellious son to death. However, the Grand Inquisitor asks that not only Carlos, but Posa also be handed over to the Church. Philip does not want to agree, but the Grand Inquisitor makes himself clear: the Church is above even the King.
Immediately after the Grand Inquisitor leaves, Elisabeth comes seeking justice for the theft of her jewel casket. Philip produces it and points to the portrait of Don Carlos which it contains. He accuses his wife of infidelity; his attack is so violent that she faints. The King calls for help, and Eboli enters followed by Posa. Elizabeth recovers. Eboli admits that she stole the casket, also declaring herself to be the King's mistress. Elisabeth gives her an ultimatum: she either commits herself to a convent or goes into exile. Eboli curses her beauty and decides to attempt to free the incarcerated Carlos.
Carlos's cell. Posa visits the imprisoned Infante and tells him that he has directed suspicion of leading the Flemish uprising against himself, which will allow Carlos to go free. Posa asks Carlos to fight for Flanders in his stead. A shot rings out: Posa is mortally wounded. With his last breath, he tells Carlos that the Queen will be waiting for Carlos in the convent the next day. Philip arrives to free his son, but Carlos attacks him, blaming him for Posa's death. The King is shaken to learn of the death of his confidant. The crowd, riled up by Eboli, demands that Carlos be set free. Breaking into the jail, the angry crowd is quelled by the appearance of the Grand Inquisitor: they kneel trembling before the head priest and at his command they pay homage to the King.

Act V
The monastery of Saint-Just. Elisabeth had sworn to Posa that she would support Don Carlos, and now she is waiting for the Infante at the tomb of Charles V to help him escape to Flanders. The young man enters and bids farewell to his stepmother. Philip and the Inquisition arrive to take Carlos. The monk enters, warning that the heart will only find respite in heaven. All those present recognise the monk as Philip's father, Charles V.
Wolfgang Amadeus Mozart LA FINTA GIARDINIERA (THE PRETEND GARDEN-GIRL) Comic opera in three acts, two parts, in Italian with Hungarian and English surtitles
Opera in two acts, in Hungarian, with Hungarian and English surtitles
60-minute tour starts every day at 13:30, 15:00 and 16:30 in English. Price: 7000 HUF Beginning with 15 March 2022,…
Please note that guided tours are currently offered in Hungarian only. Please check back for availability in English later. Get…
Warning! The basket time limit is about to expire!
estimated time left:
00:00
Time limit has expired. Please, put item(s) in to basket again.
---