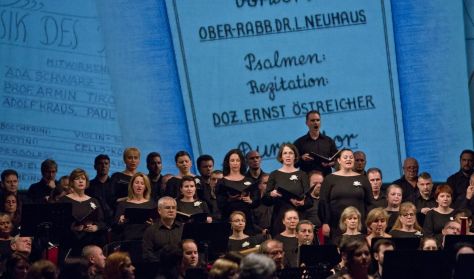 Defiant Requiem
This is a unique concert drama that commemorates the captives of the Theresienstadt Ghetto. Even while being deprived of all their human dignity, the residents of the Ghetto decided to perform Giuseppe Verdi's magnificent Requiem.
Prague Music Academy graduate Rafael Schächter organised the 150 person chorus, which, with the help of smuggled sheet music and with a single piano providing accompaniment, performed the piece 16 times between 1943 and 1944. Though the members of the chorus dwindled in number as they were deported to the Auschwitz concentration camp, they never gave up. Schächter selected this work from the Italian composer's oeuvre because of its exceptionally powerful music and Latin text, and he encouraged his fellow inmates by telling them that whatever they couldn't say with words, they could say with music. By October 1944, the chorus consisted of only 60 members and, after the last performance, they were all deported and, with few exceptions, executed in Auschwitz.

The Opera has already performed the Defiant Requiem once before, in May 2018. That performance took place at the Vígszínház. Now, as part of Christian Spirit Season, Verdi's work, accompanied by some explanatory texts and video excerpts that set the Defiant Requiem apart from a "traditional" Verdi Requiem, will be played in the Reformed Church on Pozsonyi Street.