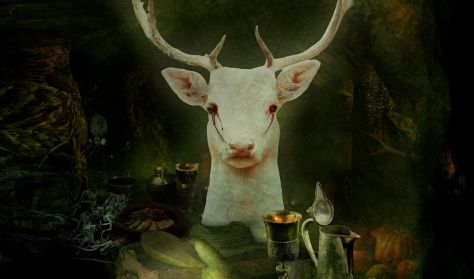 Bánk Bán (The Viceroy Bánk)
Opera in two parts, three acts, in Hungarian, with Hungarian and English surtitles
The text and musical material for the production have been created using both the original and the baritone versions
In 1844, following on the heels of his triumph in the competition to set Ferenc Kölcsey's Himnusz – today the national anthem of Hungary – to music, Ferenc Erkel set about looking at the possibilities for using József Katona's much-attacked drama Bánk bán as the subject for an opera. History made the period of composition a lengthy one: first came the Hungarian War of Independence of 1848/49, and censorship by the dictatorship that followed meant that the audience would have to wait until 9 March 1861 before the work could be performed in its entirety at Pest's National Theatre. As a result of, or in spite of, the high-level additions and revisions, the remarkable aspect of the following performances of the ever-acclaimed Bánk bán is the fact that the text and musical material were created using both the work's original version and the 1939 revision – the one best know to the wider audience – credited to Kálmán Nádasdy. The storyline thus most closely mirrors the thinking of original playwright József Katona, without forcing us to dispense with the now-timeless grand aria "Hazám, hazám" ("My homeland, my homeland").
CAST
Endre II, king of Hungary
András Palerdi
Gertrud, his queen
Erika Gál
Bánk bán, the viceroy
István Kovácsházi
Melinda, his wife
Orsolya Hajnalka Rőser
Ottó, Younger brother of Gertrud
Gergely Boncsér
Tiborc, a peasant
Michele Kalmandy
Petur bán, leader of the nobles
Zoltán Kelemen
Biberach, a knight-errant
Antal Cseh
A royal officer
Zoltán Bátki Fazekas
AUTHORS
Librettist
Béni EgressyKálmán Nádasdy
Director
Attila Vidnyánszky
Set designer
Oleksandr Bilozub
Costume designer
Viktória Nagy
Choreographer
Árpád Köntzei
English surtitles
Arthur Roger Crane
Chorus director
Gábor Csiki
Synopsis
Setting: Visegrád and the banks of the River Tisza in the early 13th century, during the reign of King Endre II
Act I 
While King Endre is off at war, Queen Gertrud is entertaining her Meranian retainers with an evening of merrymaking. There, Melinda, the wife of Bánk bán, attracts the eye of the queen's younger brother, Ottó. Petur bán, the leader of the "restive" Hungarian noblemen, looks on the festivities with disdain. The malcontents warn him to be careful and ask him to sing a drinking song. After delivering his resentful song, Peter tells his companions that he has secretly sent a messenger after Bánk to ask him to come back and see, with his own eyes, the double threat looming over the country and his own wife, Melinda.
Melinda reacts coldly to Ottó's public courtship and is appalled to realise that Queen Gertrud herself is willing to support the liaison. Pained, she recalls her earlier happiness with Bánk and hopes for her husband's swift return. Ottó complains about his lack of progress to Biberach, who wishes to make use of the prince for his own designs. Meanwhile, news arrives of the king's victory, and the court celebrates with dancing.
Ottó detains the departing Melinda and resumes his advances. Bánk watches in silence as Ottó kneels before Melinda. He leaves in haste, before he can witness his wife's firm rejection of the prince.
Then both Bánk and Ottó ask for advice from Biberach, who gives Ottó various powders (an aphrodisiac for Melinda and a sedative for Gertrud). To Bánk, however, he reveals that Ottó's path thus far has been cleared by the queen herself. After Bánk decides to seek redress from the king, the knight attempts to convince him that he has no chance of success. His heart aching, Bánk thinks of Melinda, while Biberach exults in his approaching victory over Gertrud.
The festivities gradually conclude, and Gertrud dismisses her guests. Longing for Bánk, Melinda is comforted by her retainers. Boldly, she tells the queen that she does not wish for the licence that she has offered, provoking an angry response from Gertrud. Believing Bánk to be far away, the malcontents swear to avenge him.
Act II 
Bánk arrives, consumed with pain over the country's woes and his own damaged honour. He resolves to approach Gertrud and reveal the country's problems to her. Right then, the elderly peasant Tiborc enters. At first, Bánk takes him for a bandit, but then recognises a scar on the man's head: Tiborc once saved Bánk's life in a long-ago battle. He presses a purse into the haggard man's hand. Biberach arrives with horrible news: Melinda has been dishonoured. Soon, the distraught woman herself appears, on the brink of madness. Bánk curses their child, but Melinda's pleading and the memory of her old beauty and purity compel him to forgive her. He then asks Tiborc to accompany his wife – who is being tormented by an awful vision of a swiftly flying arrow – and their child to his castle on the bank of the Tisza.
In spite of the late hour, Bánk heads for Gertrud's chambers. The queen demands an explanation for his sudden return, while he calls her to account for not even attempting to remedy the country's wounds. After she threatens him with death, Bánk also holds her responsible for Melinda's lost honour. Gertrud curses Bánk, Melinda and Ottó. The latter enters upon hearing his sister's cries for help, but flees at the sight of Bánk. Gertrud draws a dagger, only to be overpowered by Bánk.
Act III 
A storm overtakes Tiborc, Melinda and her child on the banks of the Tisza. Tiborc urges for them to cross, but Melinda is no longer aware of the world around her. Her own tragedy returns to her in a series of deranged hallucinations of a little bird. She sings a lullaby to her little son and then casts herself into the raging river with the boy in her arms.
In the palace, Endre II and his court are gathered around Gertrud's catafalque. A royal officer reports that he has killed Petur, the queen's murderer. He describes how he found two letters on Gertrud's table, in which both the governor of Illyria and Bánk bán warned her of the danger posed by the faction. Bánk enters and tosses his chain of office, the badge of his authority, onto Gertrud's coffin. He admits to the murder, but will not accept the king's judgement over him. His punishment is delivered not by the king, but by the story told by Tiborc, who has arrived with the bodies of Melinda and their son. He has lost everything. He breaks down and ends his own life.
Oratorio in one part, in German, with Hungarian and English surtitles The Saint Matthew Passion is Bach's greatest work, one…
Balletevening in three parts