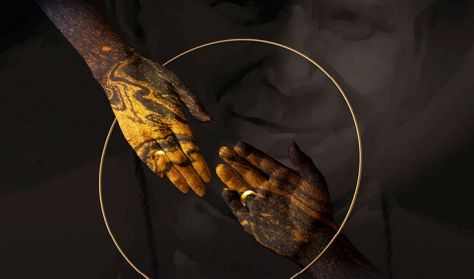 2
Przed sklepem jubilera (The Jeweller's Shop)
Karol Józef Wojtyła
Przed sklepem jubilera (The Jeweller's Shop)
Contemplation on the sacrament of marriage with Krzysztof Penderecki's music, in one part, in Hungarian
Nincs aktuális előadás
Ön egy múltbeli eseményre keresett rá. Kérjük, válogasson aktuális kínálatunkból a Jegy.hu keresőjében!
Last event date: Sunday, April 17 2022 7:00PM
The namesake of the square where the Erkel Theatre is situated was the author of serious literary works and had close ties to the theatrical world: during his university years, the future Pope John Paul II organised literary gatherings and belonged to several dramatic companies, some of which he led. Karol Wojtyłá's 1960 dialogue in verse The Jeweller's Shop centres on three couples who go to a jeweller's shop to obtain engagement rings. By relating the stories of the different couples, the philosophical text examines the themes of love and the sanctity of marriage. In this production, the Opera has paired the Polish "dramatist" with the always remarkable sounding musical world of his friend the recently deceased contemporary Polish composer Krzysztof Penderecki as accompaniment for the prose actors.
In association with Vörösmarty Theatre of Székesfehérvár.
László Seregi / Károly Goldmark / Frigyes Hidas: THE TAMING OF THE SHREW This performance is not recommended for chrildren under the age of 12. Ballet in two acts
Please note, that this programme is in Hungarian language and we do not provide translations! Interactive production for children based on the operetta János vitéz by Pongrác Kacsóh Who is valiant in small things is valiant also in large ones!
Johann Strauss Jr. DIE FLEDERMAUS (THE BAT) Operetta in three acts in Hungarian, with English and Hungarian surtitles
Georg Friedrich Händel – Wolfgang Amadeus Mozart DER MESSIAS (MESSIAH) – concert Oratorio in three parts, without intermission, in Hungarian,…
Beginning with 15 March 2022, at the completely restored Opera House guided tours are available again for fans of architecture…
Georges Bizet CARMEN Opera in two parts, four acts, in French, with Hungarian and English surtitles
Warning! The basket time limit is about to expire!
estimated time left:
00:00
Time limit has expired. Please, put item(s) in to basket again.
---