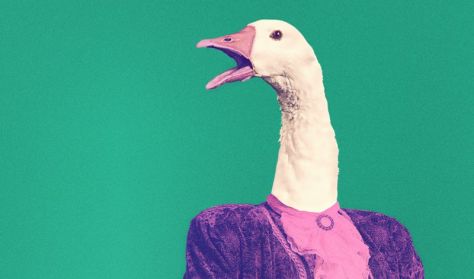 L'oca del Cairo, ossia Lo sposo deluso (The Goose of Cairo or The Deluded Bridegroom)
Pasticcio in two acts, in Italian, with Hungarian and English surtitles
more
After the success of Die Entführung aus dem Serail, Mozart set himself to composing two new operas, but gave up on both of them. In terms of style. We can regard the two fragmentary comedies L'oca del Cairo and Lo sposo deluso as precursors to Figaro and Così, and at times even the world of Don Giovanni is discernable. The completed parts were never staged in Mozart's lifetime, but since his death, however, several successful pasticcios, meaning performances sewn together from excerpts from multiple musical works, have been made. 
An idea cherished by General Director Szilveszter Ókovács for 25 years: to present Mozart's thus-far unknown opera, under the baton of Pál Németh and in a production directed by Attila Toronykőy.
AUTHORS
Librettist
Giovanni Battista Varesco / Lorenzo Da Ponte
Concept by
Szilveszter ÓkovácsAttila Toronykőy
Music edited by
Pál Németh
Italian libretto supplemented by
Éva Lax
Director
Attila Toronykőy
Set and costume designer
Katalin Juhász
Dramaturg, Hungarian surtitles
Judit Kenesey
English surtitles
Arthur Roger Crane
Assistant chorus master
Dániel Erdélyi
Chorus director
Gábor Csiki
CAST
Lionetto
Ninh Duc Hoang Long
Biondello
Tibor Szappanos
Synopsis
Act 1
In the castle of Ripaseccha, the no-longer-youthful and miserly marquis Don Pippo is preparing for his wedding, to the great amusement of his secretary, Calandrino. Don Pippo's ward, Celidora demands that her guardian keep his promise by finally giving her away in marriage to the young man she loves, Biondello, who has been hanging around the house of the marquis for a year now. Don Pippo tells her that they will be celebrating a double wedding that evening. It won't be Biondello that Celidora is marrying, however, because Don Pippo is giving her to a wealthy Roman count of similar age whose own ward he himself, it so happens, is preparing to marry.
Biondello looks woefully at the marquis, who laughs at the boy and dismisses him: the impoverished lad can have Celidora when the singing of the goose of Cairo makes dollars rain down from the sky. Calandrino racks his brains to figure out how he can help Biondello get his beloved back, but Don Pippo locks the girl in the castle's tower in order to prevent any trickery.
The marquis happily welcomes the Roman guests as they arrive in the house: they are his veiled bride and his future father-in-law/son-in-law, the noble-spirited and sophisticated Lionetto. As Don Pippo accompanies the count to the castle tower to introduce him to his future wife, Celidora, Calandrino is forced to entertain Don Pippo's bride. The woman removes her veil, and the secretary is astonished to behold Lavina, his beloved. He immediately resolves to spirit her away. When Don Pippo returns to find the two lovers in each other's arms, he has Lavina locked in the tower together with Celidora and entrusts the key to Auretta, the chambermaid.
 Calandrino woos the tower key out of Auretta's hands, a scene that is nevertheless witnessed by Chichibio, the stable-boy… who is also Auretta's lover. He immediately grows jealous.
The "big meeting" between Count Lionetto and Celidora takes place: it turns out that Don Pippo has sent the love letters that Celidora wrote to Biondello to Lionetto, who for some reason addresses the girl as "Clarice". Celidora bitterly announces that the old man will only be her husband when the singing of the goose of Cairo makes dollars rain down from the sky.
Act 2
After his afternoon nap, Don Pippo feverishly instructs Auretta and Chichibio to prepare everything for the double wedding. The chambermaid and the stable-boy, however, decide that the lovers should be together and resolve to help the youngsters avoid the forced marriages.
In great secrecy, Calandrino brings the girls down from the tower. Celidora and Biondello fall into each other's arms, and the lad produces money to help his lover out of her trouble. Lionetto surprises them and, left alone with Celidora, objects that she is not the same person as Clarice, whom her "father" said so many good things about, as she was neither learned nor even virtuous. Celidora bitterly explains to Lionetto that she has always been in love with someone else and that her guardian has a heart of stone. Finally, she tosses the money in front of the older man and hurries off. After some moments of thought, Lionetto addresses Chichibio, who is right then stealing around the area in a goose costume, and tells him to inform his master that the two lovers are getting ready to abscond right now. He himself decides to put an end to the drama; he gathers up the money from the floor, along with the goose costume that the stable-boy has left there, and hurries off.
The four lovers are prevented from fleeing by the river in front of the castle, so they summon workers to quickly build a bridge over the water. The work is feverishly being carried out when Auretta and Chichibio bring news: Don Pippo is approaching!
The marquis indeed arrives, and in a terrible rage is about to throw the entire company in prison right away. Suddenly, however, Count Lionetto appears from the tower dressed as a goose and tossing gold dollars to the ground. He attempts to appeal to Don Pippo's better nature: "Now I can see that, on this earth, everyone should only marry for love. Two old ganders caused this fuss, and now this famous specimen will bring peace: I myself am the 'goose of Cairo', and I myself am the 'deluded bridegroom'!"
Opera in two acts, in Hungarian, with Hungarian and English surtitles
Opera in five acts, in Italian, with Hungarian and English surtitles
Johann Strauss, Jr.: Der Zigeunerbaron (The Gypsy Baron) Grand operetta in three acts, in Hungarian, with Hungarian surtitles