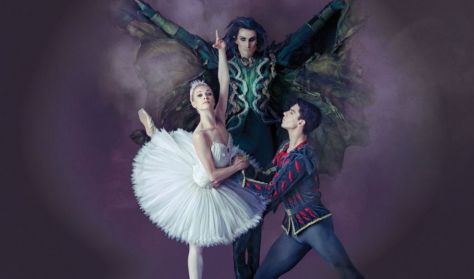 Swan Lake
Rudi van Dantzig / Toer van Schayk / Pyotr Ilyich Tchaikovsky
SWAN LAKE
Classical ballet in three acts
Information on standing places for sold-out performances
If all seats are sold out for the selceted time, 64 standing seats at reasonable prices for the 3rd floor balcony become available 2 hours before the start of the performance. Tickets can be purchased at the Opera House ticket office and online. Please note there is limited view from the side seats and the standing places, but the performance can be followed on screens.
Tchaikovsky's first ballet is the most beloved classical piece in ballet literature: while the hardships of love between a prince forced into marriage and a maiden enchanted into the form of a swan is one of the most charming Russian romantic fairy tales, the piece nevertheless failed at its original premiere in 1877. The choreographers creating the premiere were simply not equal to Tchaikovsky's genius. It was Marius Petipa's and Lev Ivanov's choreography that brought fame for the piece and established a tradition, and most companies to this day still dance the piece following this blueprint. Rudi van Dantzig and Toer van Schayk revised this classic creative work in 1988.
The same female ballet dancer portrays both Odette – the pure, innocent white swan– and Odile – the seductive, manipulative black swan in the Hungarian National Ballet's production.
CAST
Conductor: David Coleman | András Déri
Odette /Odile: Aliya Tanykpayeva | Tatyjana Melnyik | Ganna Muromtseva | Maria Beck | Maria Yakovleva
Siegfried: Dmitry Timofeev | Gergely Leblanc | Boris Zhurilov | Gergő Ármin Balázsi | Louis Scrivener
Rothbart: Takaaki Okajima | Vlagyiszlav Melnyik | Nyikolaj Ragyus | Iurii Kekalo | Rafael Fernandez Ramos
Alexander: Valerio Palumbo | Raffaello Barbieri | Taran Dumitru | Alberto Ortega de Pablos | András Rónai
AUTHORS
Choreography after Marius Petipa and Lev Ivanov: Rudi van Dantzig
Choreography of folk dances: Toer van Schayk
Composer: Pyotr Ilyich Tchaikovsky
Set designer: Toer van Schayk
Costume designer: Toer van Schayk
Assistant set and costume designer: Ruud Lutgens
Lighting designer: Jan Hofstra
Répétiteur: Eleonora Demichelis | Toer van Schayk | Caroline Iura
Company répétiteur: Mária Aradi | Imre Dózsa | Albert Mirzoyan | Ildikó Pongor | Irina Prokofieva | Tamás Solymosi | György Szirb | Marianna Venekei
Buy tickets
Rudi van Dantzig / Toer van Schayk / Pyotr Ilyich Tchaikovsky SWAN LAKE Classical ballet in three acts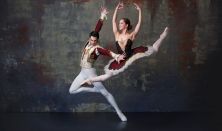 Buy tickets
Marius Petipa / Alexander Gorsky / Kasyan Goleizovsky / Michael Messerer / Ludwig Minkus DON QUIXOTE Classical ballet in three…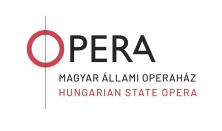 Buy tickets
Warning! The basket time limit is about to expire!
estimated time left:
00:00
Time limit has expired. Please, put item(s) in to basket again.
---