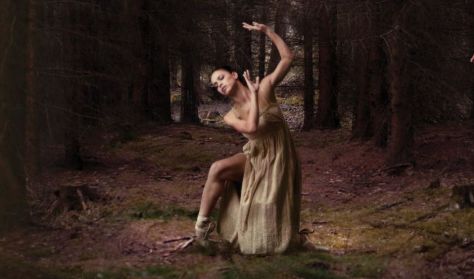 The Wooden Prince/Bluebeard's..
THE WOODEN PRINCE
BLUEBEARD'S CASTLE
László Velekei / Béla Bartók: The Wooden Prince
Contemporary opera - Premier

"There is no date in the half-a-century history of our Opera House as important as the premier day of Béla Bartók's first pantomime ballet The Wooden Prince on 12 May 1917. It was the first time that the Hungarian spirit, the genius of Vörösmarty, Petőfi and Ady's nation was expressed in its true greatness and absolute authenticity in the music played in the Hungarian opera", writes musicologist Aladár Tóth, who later became the director of the OPERA. The piece that has been part of the repertoire almost constantly in the 105 years passed since its original premier has been staged by several renowned choreographers. This mixture of a fairytale-like world of a forest and the realistically deep and human struggles of men and women, is brought to life in the 2022/23 season by László Velekei, ballet director of Győr Ballet.

Authors
Conductor: Ádám Medveczky
Choreographer: László Velekei
Composer: Béla Bartók
Libretto: Béla Balázs

Béla Bartók: Bluebeard's Castle
Contemporary opera

General cast
Judith............................ Szilvia Vörös
Bluebeard..................... Gábor Bretz / András Palerdi

Authors
Composer: Béla Bartók
Librettist: Béla Balázs
Director: Kasper Holten
Set designer: Steffen Aarfing
Lighting designer: Ulrik Gad
Dramaturg: Judit Kenesey
English surtitles: Péter Zollman
Georges Bizet CARMEN Opera in two parts, four acts, in French, with Hungarian and English surtitles
Opera in three parts, in three acts, with prologue and epilogue, in French, with Hungarian and English surtitles
Sir Kenneth MacMillan / Franz Liszt / John Lanchbery: MAYERLING Ballet in three acts
Warning! The basket time limit is about to expire!
estimated time left:
00:00
Time limit has expired. Please, put item(s) in to basket again.
---