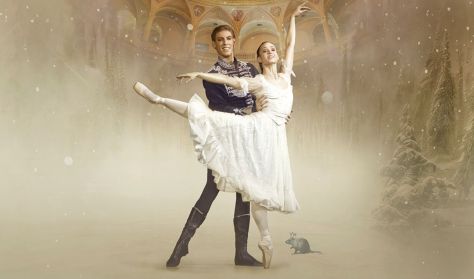 4
The Nutcracker
Wayne Eagling / Tamás Solymosi / Pyotr Ilyich Tchaikovsky
THE NUTCRACKER
Fairy tale ballet in two acts
Tchaikovsky's Nutcracker has for decades been an essential part of the Opera's run-up to Christmas. In memory of Vasili Vainonen and Gusztáv Oláh, we first presented for Christmas of 2015 a newly buffed-up show that follows classical ballet traditions while still conforming to the requirements of 21st century dance and set design. Partnering with Tamás Solymosi to choreograph a new fairy-tale ballet for the classical-music piece is a true Nutcracker specialist: the internationally renowned Wayne Eagling. This is the first time in the life of the Hungarian National Ballet that an artist of such worldwide stature has developed a choreography tailored specifically to its members, as well as taking inspiration from them.
"This new choreography by Wayne Eagling and Tamás Solymosi is not only modern and as brilliant as one would expect, it is also a sort of homage to the legend, as it might be called, to the creative work of Vasili Vainonen and Gusztáv Oláh. The latter considered the sets for The Nutcracker to be the greatest "show" of his life, which is continuously reflected in Beáta Vavrinecz's own sets in the current production. Nóra Rományi's costumes are classic, beautiful and timeless." (Eszter Veronika Kiss, Mno.hu) 
AUTHORS
Choreographer: Wayne Eagling / Tamás Solymosi
Composer: Pyotr Ilyich Tchaikovsky
Set designer after Oláh Gusztáv: Beáta Vavrinecz
Costume designer: Nóra Rományi
Staging ballet master: Wayne Eagling
Company répétiteurs: Mária Aradi / Cristina Balaban / Imre Dózsa / Gergely Leblanc / Albert Mirzoyan / Ildikó Pongor / Irina Prokofieva / Tamás Solymosi / Aliya Tanykpayeva / György Szirb / Marianna Venekei
Students trained by: Olga Chernakova / Dace Radina / Dmitrij Taraszovics Kirejko / Dénes Kovács / Nataliia Yakushkina
Head of the Children's Chorus: Nikolett Hajzer
Warning! The basket time limit is about to expire!
estimated time left:
00:00
Time limit has expired. Please, put item(s) in to basket again.
---